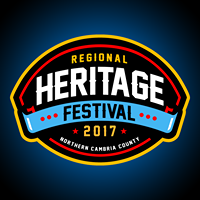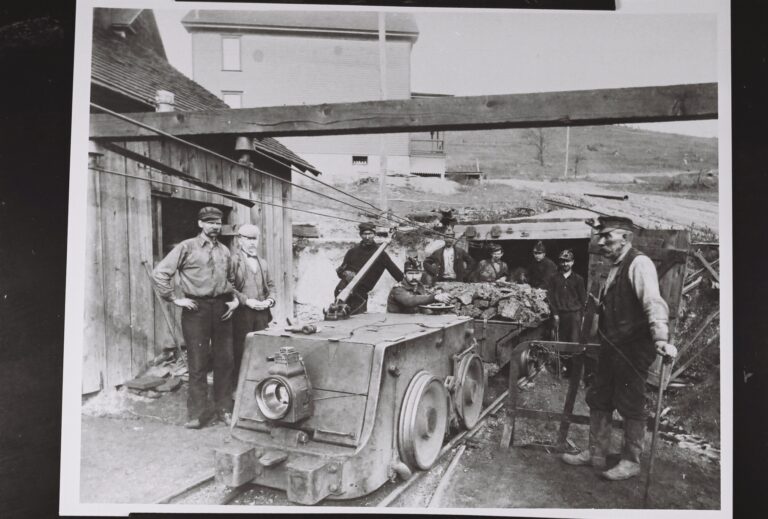 History
The borough of Northern Cambria was incorporated on January 1, 2000. It was formed from the merger of two smaller municipalities, Barnesboro and Spangler. It is now often referred to as "The 2", since two towns combined to create one. The area was first settled by Europeans in the early-to-middle 19th century. The presence of the West Branch of the Susquehanna River allowed loggers to move their harvest downstream. Small farms developed, but the area changed in the 1890s when mining of the extensive bituminous coal fields in the area became the dominant industry. The mining companies required skilled workers, and many came from Great Britain and Eastern Europe. Railroads were built to transport the coal out, and the town flourished with the influx of money. In the 1980s, the coal industry began a decline, and there has been a subsequent decline in the population of the area. In November 1922, the Reilly Shaft No. 1 mine explosion occurred, killing 78 coal miners.[4]
A pumpkin weighing 1,469 pounds (666 kg) was grown by resident Larry Checkon in 2005 (a world record at that time).[5]
Geography
Northern Cambria is located near the northwest corner of Cambria County at
40°39′21″N 78°46′46″W / 40.65583°N 78.77944°W / 40.65583; -78.77944 (40.655813, -78.779472),[6] in the valley of the West Branch of the Susquehanna River, near its headwaters. U.S. Route 219 passes through the borough, leading south 15 miles (24 km) to Ebensburg, the county seat, and north 47 miles (76 km) to DuBois.
According to the United States Census Bureau, Northern Cambria has a total area of 3.0 square miles (7.7 km2), all of it land.[3]
Education
The local public school district is the Northern Cambria School District. The district has two schools located in the borough of Northern Cambria. The Northern Cambria Elementary/Middle School serves students in grades Pre-K to 8 while the Northern Cambria High School serves students in grades 9 to 12. By 2014, Northern Cambria School District enrollment declined to 1,155 students.[7] In 2015, the Pittsburgh Business Times ranked Northern Cambria School District 378th out of 493 public schools ranked for academic achievement of its pupils.[8] In 2012, Northern Cambria School District achieved Adequate Yearly Progress (AYP) despite the low academic achievement at the schools.[9]
High school aged students can attend the taxpayer funded Admiral Peary Area Vocational Technical School, located at 948 Ben Franklin Highway, Ebensburg, for training in the building trades, auto mechanics, culinary arts, allied health careers and other areas.
Northern Cambria residents may also apply to attend any of the Commonwealth's 14 public cyber charter schools (in 2013) at no additional cost to the parents. The resident's public school district is required to pay the charter school and cyber charter school tuition for residents who attend these public schools.[10][11] The tuition rate that Northern Cambria School District must pay on the student's behalf was $9,992 in 2014. By Commonwealth law, if the District provides transportation for its own students, then the District must provide transportation to any school that lies within 10 miles of its borders. Residents may also seek admission for their school aged child to any other public school district. When accepted for admission, the student's parents are responsible for paying an annual tuition fee set by the Pennsylvania Department of Education
Appalachia Intermediate Unit #8 provides a wide variety of services to children living in its region which includes Northern Cambria. Early screening, special education services, speech and hearing therapy, autistic support, preschool classes and many other services like driver education are available. Services for children during the preschool years are provided without cost to their families when the child is determined to meet eligibility requirements. Intermediate units receive taxpayer funding: through subsidies paid by member school districts; through direct charges to users for some services; through the successful application for state and federal competitive grants and through private grants.[12]
Private schools
Students in grades K-8 can also attend the private Northern Cambria Catholic School in Nicktown, 3 miles (5 km) to the south. Some students in grades 9-12 attend the private Bishop Carroll High School in Ebensburg.
Higher education
Nearby colleges include Mount Aloysius College (Cresson), Saint Francis University (Loretto), Indiana University of Pennsylvania (Indiana), the University of Pittsburgh at Johnstown, Penn State Altoona, and Pennsylvania Highlands Community College (near Johnstown). Eleventh and twelfth grade students may attend these schools at a significant tuition discount through its Dual Enrollment program earning college credits while still earning their high school diploma. The credits are transferable to many other Pennsylvania universities through the state's TRAC system. [1]
Public library
Community members have access to the Ebensburg-Cambria Public Library System which is located at the 225 West Highland Avenue, Ebensburg. Through it Pennsylvania residents have access to all POWER Library [2] online resources.
Demographics
Historical population
Census
Pop.
 
%±
2000
4,199
 
—
2010
3,835
 
−8.7%
Est. 2017
3,580
[2]
−6.6%
 
As of the census[14] of 2000, there were 4,199 people, 1,763 households, and 1,191 families residing in the borough. The population density was 1,401.9 people per square mile (540.4/km²). There were 1,954 housing units at an average density of 652.4 per square mile (251.5/km²). The racial makeup of the borough was 99.31% White, 0.07% African American, 0.10% Native American, 0.24% Asian, 0.02% Pacific Islander, 0.10% from other races, and 0.17% from two or more races. Hispanic or Latino of any race were 0.31% of the population.
There were 1,763 households, out of which 28.1% had children under the age of 18 living with them, 51.3% were married couples living together, 11.9% had a female householder with no husband present, and 32.4% were non-families. 29.3% of all households were made up of individuals, and 17.7% had someone living alone who was 65 years of age or older. The average household size was 2.37 and the average family size was 2.92.
In the borough the population was spread out, with 22.0% under the age of 18, 8.3% from 18 to 24, 26.0% from 25 to 44, 22.5% from 45 to 64, and 21.2% who were 65 years of age or older. The median age was 41 years. For every 100 females there were 89.8 males. For every 100 females age 18 and over, there were 86.0 males.
The median income for a household in the borough was $24,655, and the median income for a family was $29,917. Males had a median income of $27,214 versus $17,546 for females. The per capita income for the borough was $13,129. About 15.4% of families and 17.7% of the population were below the poverty line, including 29.1% of those under age 18 and 7.4% of those age 65 or over.
Media
Three daily newspapers cover the Northern Cambria borough: the Altoona Mirror, the Johnstown Tribune-Democrat, and the Indiana Gazette. 950 WNCC is the town's radio station since 1950. The local NBC affiliate is WJAC-6, the local CBS affiliate is WTAJ-10, the local ABC affiliate is WATM-23, the local PBS station is WPSU-3, and the local Fox affiliate is WWCP-8. Comcast is the cable provider for the borough.